Is there something wrong with this house?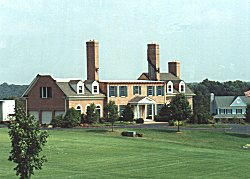 THE ROOF IS MISSING!!!
This unnecessary loss could have been prevented with LIGHTNING RODS! $215,000 of damage from a LIGHTNING BOLT.
The roof took a direct hit and caused $215,000 worth of damage. Fortunately the owners were not home. Inside the house was gutted, most floors and walls had to be replaced due to the lightning putting hundreds of holes in the water pipes and causing extensive water damage. All of the electric wires had to be replaced, there were hundreds of burned spots on the wires that arced through the insulation. The chimneys and foundation suffered severe structural damage. The only thing salvageable was the shell! Look closely at the middle chimney, it had to be strapped with plywood to keep it from falling down.